Featured Products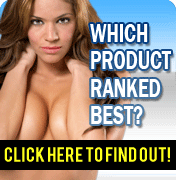 Chosen as the top product by our visitors, this male enhancement pill will enlarge, expand and strengthen your penis! Full review.
Rated:
5.8
out of
10
by
MaleEnhancement.org
Vicerex is a male enhancement pill that increases the blood flow to your penis. This surge of blood to the penis enhances the quality and strength of your erection - making it harder and more powerful - for up to 72 hours, according to the manufacturer.
Vicerex also provides your libido with a shot of energy that helps energize your sex life and boost your performance in the bedroom by extending the time you can maintain an erection. It is marketed as a fast acting enhancement pill that is also safe to take.
While the home page claims Vicerex is the only sex enhancer you can take with alcohol, the fine print in the FAQs states "It is not recommended to take with alcohol:"
One package of 10 pills costs $39.90 from www.vicerex.com/ordernow.html.
[Update - as of 11/25/13, vicerex.com is not working. For other male enhancement products, click here]
Vicerex Ingredients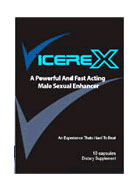 The ingredients in Vicerex were chosen because they can arouse your brain and your body chemistry to act in a higher than normal sexual capacity. Your brain and your body will be working together to improve your libido and stop erectile dysfunction.
Some of the ingredients in Vicerex are:
Tongkat ali: The main ingredient in Vicerex, it's an all natural aphrodisiac that increases blood flow to the penis, enhances the libido, stimulates your sensory nerves, and helps elevate your testosterone level among other things.
Tribulus terrestris: This increases the movement of sperm (motility), enhances testosterone levels, boosts the level of pleasure that is felt when making love, and gives you new sexual vitality.
Ginkgo Biloba: This increases the blood flow to your penis and also helps remedy the problems associated with impotence.
Horny Goat Weed: Known by many names, this ingredient improves the blood flow in the body, thus freeing up more blood to flow to the penis area, develops a better sex drive, assists in the battle against impotence and gives you an all-around sexy feeling that prepares you for a better sexual experience.
Vicerex Recommended Dosage
The manufacturers of Vicerex recommend that you take two capsules per day with a glass of warm water. They claim that the pill should start to have a positive effect on your penis area and your overall sexual mood within 20 to 30 minutes.
There may be a few side effects such as a head-ache or a rush of blood feeling to the head but they have been reported as few and far between.
How Does Vicerex Compare?
Click here to see the best male enhancement pill reviews.